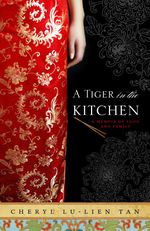 Speaking of tigers, my friend Cheryl Lu-Lien Tan's book A Tiger in the Kitchen is out today. To help celebrate the publication of this memoir about food and family, Cheryl asked me to share a family recipe.
I didn't have one at hand, so I thought I'd check in with the Greek side of my family, meaning my dad.
Dad, I said, what do we have in the way of family recipes? Nothing written down, it turns out, but he recalled that his grandmother often made leg of lamb with clove sprigs. He also said that she ate little if any meat, and added, "I think it helped her to live to 103, that and the cold coffee which I seem to recall she drank."
As far as eating meat goes, I take after my Yaya (though I like my coffee hot). So I thought: maybe it's time to establish some new family recipes.
I'm currently living and working at the James Merrill House in Stonington, Connecticut. I'll have more to say about this extraordinary place in the months ahead, and if you'd like a tour, I recommend previous resident Ivy Pochoda's piece over at Writers' Houses. But what you need to know for now is that Merrill spent a lot of time in Athens, and that Greece figures into much of his work (see below). Also, during one of my first days here, I discovered in his bookshelf near the kitchen a little yellow volume of Greek cooking by Robin Howe.
It was published in Britain in 1960, and this copy is inscribed to Jimmy (as he's referred to in these parts), "So as to be able at Delos," with a bookmark helpfully left in the section on wines. This is the kind of cookbook that uses the teacup as a unit of measurement, and the writing is full of bold proclamations, starting with the first sentence: "Almost everything Greek is controversial; the country, the politics, and naturally the cooking and wines."
Naturally, but I was able to choose without too much controversy the components of this feast-to-be. Because I'm here in a little seaside town, where one can actually purchase fish from a self-serve bin down at the docks, I settled on Psari Fournou Spetsiotiko, or "fish as prepared in the island of Spetsai." And to accompany this: stuffed tomatoes, and spanakopita.
I would have help, luckily. Emily was visiting from Northampton, and we drove together to McQuade's supermarket in Mystic (a well-stocked if somewhat mystifying store, seemingly laid out with the triangle as its principal geometric feature; an aura of confusion permeates the aisles). We found most of what we needed there, then collected my brother Sean (there's also an Irish side of the family), and his girlfriend MaryLeigh, who had taken the train from Brooklyn. We would need their help eating, and MaryLeigh would lend her photography talents to the endeavor.
Back in Stonington, Sean shucked oysters, Emily began chopping a pile of spinach, and I got to work on the sauce for the fish (a native cod). One thing I now understand about Greek cooking is that it uses even more olive oil than one might dare to imagine. But instead of the cup and a half called for by the Spetsaians Ms. Howe consulted, I used about 3/4 (controversial?). Next, two tablespoons of tomato purée, a handful of chopped parsley, and plenty of chopped garlic and lemon juice. Also some salt and pepper. Then I let the sauce and the fish get to know each other for a while.
By then we were ready to move on the spanikopita. The chopped spinach—all two pounds of it—was tossed with a generous amount of salt and pepper. We fried two large chopped onions in olive oil, then added the spinach. How much oil, you ask? The recipe calls for a cup, and in this case I do recommend the full amount. Yes, the spinach and onions will be completely drenched, and you will have to pull them dripping from the oil. But this turned out to be the tastiest spanikopita any of us have eaten, and that may have had something to do with it.
The spinach and onions went into a bowl with a half pound of crumbled feta, some pepper, a tablespoon of chopped fresh dill, and two tablespoons of finely chopped parsley. If you're worried about how to get more oil in there, not to worry: each of the ten sheets of phyllo dough gets brushed with some. That's five sheets on the bottom, the spinach mixture on top of that, and five sheets on the top. Scored into squares with a sharp knife, and sprinkled with water to keep it from curling. Then it goes into a "moderate" oven for 40 minutes.
Next for the stuffed tomatoes. Stuffed with what? Nothing less than their own chopped up innards. Also a teacup of rice and one of olive oil (of course), 2 finely chopped onions, an ounce each of currants and pine nuts, 2 tablespoons of chopped mint, 2 more of parsley, and salt and pepper. That gets simmered with a half pint of water for about 12 minutes. Emily had scooped out the tomatoes, and into them we spooned the mixture, leaving a little space at the top, to allow for the expansion of the rice. If you use brown rice, by the way, you may want to cook it a little more in advance.
We learned that it can be tricky to match the tops of the tomatoes with their bottoms: see this video for our solution to the final stages of that puzzle. The tomatoes get sprinkled with breadcrumbs, then baked for about 45 minutes. Breadcrumbs also on top of the fish, by the way. The book says an hour in the oven for the fish, but I found that it was ready in less than half that time.
As for wine, we went with a Boutari Moschofilero, from Mantineia. (I personally went with perhaps too much of it.) In her book, Robin Howe describes it as a light wine of the Riesling type, from the Peloponnese. It was the only Greek wine in town, but it did the trick, and everyone agreed that the meal was delicious.
The dishes weren't from family recipes, but I feel like they are now, and I learned some new things about my great-grandmother in the process. Also, there was some leftover stuffing for the tomatoes and, as I write this, it's baking in the oven, stuffed inside some green peppers.
I'm grateful to Cheryl Tan for inspiring me to embark upon this little cooking odyssey, and I hope you'll check out her book. Her blog is also full of great recipes and dining experiences—I can attest personally to the high quality of this meal we shared not long ago in Saratoga, New York.
Though there's probably no food memoir in my future, maybe I should blog about food more often? I do love to cook.
Light into the olive entered

And was oil. Rain made the huge, pale stones

Shine from within. The moon turned his hair white

Who next stepped from between the columns,

Shielding his eyes. All through

The countryside were old ideas

Found lying open to the elements.

—from "After Greece" by James Merrill